Happy Writing Wednesday, all!
If I haven't mentioned this before, I'm obsessed with Adobe Spark. I've made an unhealthy amount of pictures for I'm Only Me (and everything else I write). It's strangely addicting, and I may have a problem. I'll be posting my novel pics on my Instagram in the coming weeks. I have a schedule and everything. Try to contain your excitement.
Ha!
Well, I'm excited about it. I don't know how to convey this without sounding like I've officially lost it. There's something literally magical about seeing fictional characters that you've created come to life in a picture.
When I started writing, Tyler was the only character I had a pretty good visual for. Tyler is 82% Tyson Ritter, 6% a guy I know, 5% FNL's Tim Riggins, 5% MSCL's Jordan Catalano, and 2% Nothing More's Jonny Hawkins (the hair!!). (Personality: 45% a guy a know, 20% Tim Riggins, 20% Jordan Catalano, 10% Jess Mariano, 5% Tyson Ritter.)
Shamefully, it took me a long-ass time to realize Mark Peterson is Matt Bomer. Like, 100%. Duh. It's so obvious now.
I first found Lily on Pinterest, but I can't remember how. She's a Canadian actress who does some Hallmark movies (fitting), and she was on a series on Hallmark too. I have limited pictures of her, because in most of her photos, she's a blonde. The few I have are perfect for Lily.
Anna is the tragic one. I found this woman on Pinterest, and OMG, Anna is alive! But it's the only photo I have. I don't know who she is, what her name is, anything. She's just some chick who got a haircut. *sigh* But she's too Anna to find a different woman.
Hunter…. Let me try to explain this. It's one thing to find a picture and sort of create a character around the image. (I did this with a short story, and it was awesome.) But it's an out of body experience to find a man who is the living embodiment of a character you MADE. UP. He's a model from… Germany? I can't remember. He is perfect. He's more Hunter than Hunter. Every time I look at him, I can't fathom it. I get giddy looking at his picture. I wish I was joking.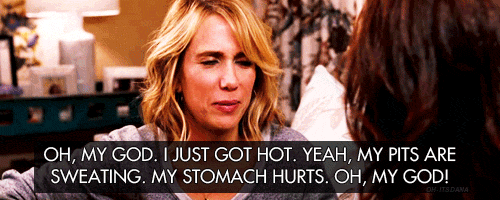 I'm not showing you everything quite yet. I'm waiting for when I put them on Instagram. So that makes this post pretty pointless. But by the time this is posted, I should have started with Anna, probably a quote and her photo collage thingy. I'll go ahead and post those here:
No one on Instagram will care about these posts, so I'm pretty much doing it for me. I want to be able to scroll through and see all these pics I've made.
As for this post, I'm simply sharing the excitement about creating aesthetics for your WIPs. Do it. Character collages, settings, themes, etc. They're so much fun, and if you're in my position where you're missing your characters, you get to hang out again.
---
Thanks for spending some time here. Adobe Spark! Yes!