Where to Start
Query Resources
Before you drown in query information, I'd start with these:
Query Shark: read sample queries and find out what's wrong with them
Manuscript Wishlist: find agents & what they're looking for
Agent Query Connect Forum: read samples of successful queries
Query Tracker: find agents, read submission stats, log your queries

For videos about querying, check out my blog post, Let's Query.
The 10 Stages of Querying
(with a little help from Gilmore Girls)
1) Stop editing.  
Seriously. I know it's difficult, but stop. If you're anything like me, you have a hard time considering your manuscript finished; however, there comes a time when you're no longer editing but nit-picking. Once you have a polished, as-best-as-you-can-make-it manuscript, you're ready for step two.
2) Become a query expert.
Read, read, and then read some more. You will soon discover just how many examples, tips, and advice the internet has to offer about query letters. You will be overwhelmed, but it's all part of the process if you're pursuing traditional publishing.
3) Procrastinate like it's your job.
You'll binge shows you've never heard of before. You'll do chores you've been putting off for years. Anything to avoid actually writing the query. Writing another novel is preferable to writing a query letter. The hardest part? Starting.
4) Write your query.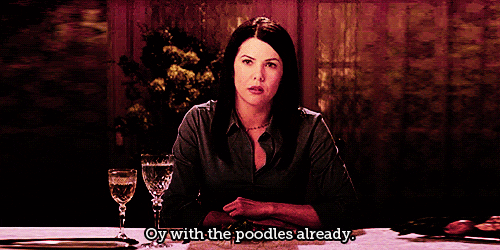 Trust me. It's tough. But write something down. It's always easier to trim than to add, so just start writing. What is your book's hook? What will entice a potential reader? Write it down! When you get stuck, read more examples, have some chocolate, go back to step four, whatever you need to do for motivation. As the saying goes, "you can't edit a blank page."
5) Second guess every word.
Congrats! You've written a query. Now, it's time to obsess over it. Time to question not only every sentence you wrote but your entire existence. Why did I ever write this book? What was I thinking? Now, show your query to anyone willing to look. I suggest getting feedback from readers of your book (they can tell you how successfully you've captured the story), fellow writers (they can offer a narrower perspective) and anyone in between (they'll have an unbiased opinion on whether they'd want to read your book). Edit and repeat.
6) Research potential agents.
Make a list, spreadsheet, etc. to organize the agents you plan to query. Dig for info. Sure, they may represent your genre, but do they have more specific preferences? That's where places like Manuscript Wishlist (and #MSWL) come in handy. You can also reference what you've found in your query to tailor it to each agent.
7) Hit send!

You've done it! You've written the query and know where it's going. Before you hit that send button, make sure you've done the following: reviewed the agent's/agency's guidelines, triple checked the agent's name for spelling/gender errors (yikes!), and read your query for the zillionth time. To be extra cautious, you could always email it to yourself as a test run. Yes, I've done this. Now, hold your breath and click!
8) Check your inbox in five minute increments.
Time to wait. Response times vary from hours to months. If you're curious about a certain agent, check Query Tracker for response data. Easier said than done, but stay busy. Write something new! Even with distractions, the urge to refresh your inbox constantly will not go away. Sorry to break it to you.
9) Prepare to get rejected.
I'm not trying to be cynical. It's just how this process works. I've never heard of someone getting an offer on their first query. It's not impossible but highly unlikely. Don't take it personally. You don't want an agent who doesn't like your manuscript, right?  Cherish your first rejection. I mean it. My first rejection email is my laptop wallpaper. Every time I read it, I'm reminded how far I've come and how I've put myself out there. I urge you to do the same. Don't think of it as failure; you're simply one step closer.
10) Don't give up!
After a rejection comes, sigh and then send another query. Keep moving forward. Remind yourself that there is someone who would love to represent you. It's just a matter of finding out who. You'll get there. 😀
---
Rejections are Tough. Get Motivated!

---
Best of luck in your query journey!