I don't post to Facebook often and I rarely stray from the few VIPKID groups I'm in, but I do check the feed at least once a day. And I've definitely noticed a pattern. So here's a list of posts you're bound to see in VIPKID Facebook groups on any given day. In no particular order.
1) "Gif Me!"
I love gifs. I mean, just look around. But these "Gif Me!" posts are so pointless. Why don't you just search for your own gifs? That's half the fun–and why all of my posts take me forever to finish.
2) Tagging Erik Chong
I feel for Erik Chong. I really do. As a social media guy, community person, whatever his title is, people seem to think, if they want to be heard, just stick his name on the end of your post. I don't want to know what his notifications look like. And he's always getting blamed for things, like not listening to concerns. It's unreal.
3) "Are your bookings low? My bookings are low. Anyone?"
In short, yes. If you spent ten seconds reading, you would know this. So WHY would you start yet another thread about low bookings?
4) Have you gotten paid?
Any posts related to money, really.
5) "This picture is inappropriate."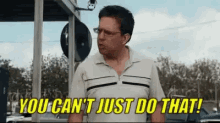 I don't know if people are bored or what, but some like to take the time to screenshot a certain slide, post it, and ask if others think the image/s used are inappropriate. Continue reading →