Let me preface this by saying, do whatever works for you, OK? No hate and no disrespect here.
But I do not and will not understand this NaNoWriMo BS that is basically inescapable for an entire month.
I don't force myself to write. I just don't. Which is probably why I haven't written anything new in almost two months. Not the point.
I just don't get this. At all. Why would you stress yourself out to write x number of words in a given span of time that you ALREADY KNOW aren't going to be any good? Is that too pessimistic? To me, if I'm "on the clock" I'm likely to churn out a bunch of shit just to reach a certain word count. A word count that I've preset for some effing reason. And if I'm the one to set the word count…can't I just make it whatever I want? 500k? 5k? 5? It doesn't matter, does it? What's the limit?
If you know anything about me, you might recall I used to be a teacher. I hated giving a length requirement for essays. Because I KNEW if I said the essay had to be 500 words, let's say, I'd get 250 of quality material, followed by 250 of the same thoughts reworded. Or 250 words of extraneous detail. Or 250 words of "I think" "I feel" "I believe". MAKE IT STOP. As a student it was the same thing. Like how I can pad this thing to get to the right number of words? Let me undo all my contractions!
Writers, why do this to yourself?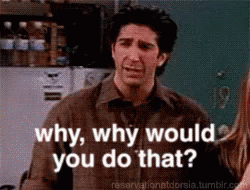 Why spend an entire month writing something you ALREADY KNOW you're going to spend the next month rewriting? December shall be DecDoOver. Yeah, the name ain't catchy. But it's about as catchy as NaNoWhyAmIDoingThis?